Star Wars: Rebel Assault is a rail shooter game that had been announced for Pippin Atmark.[1] It is one of the first games to make use of full motion video on the CD-ROM medium.[2]
Release status
Edit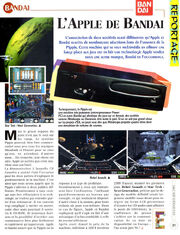 Developed by LucasArts, the game was first released separately for MS-DOS and Macintosh in 1993.[2] Versions for the 3DO and Sega CD / Mega-CD game consoles were released in 1994.[3]
A Pippin version of Rebel Assault had been announced by Bandai and previewed in game magazines, but does not appear to have been released.[4][5]
References
Edit
↑ Pippin software, Bandai Digital Entertainment, Japan. Archived 1997-06-27.
↑ Star Wars: Rebel Assault Releases, MobyGames.
↑ Rebel Assault (Japanese), Third Stage. Archived 1999-09-21.
↑ The unreleased games of Pippin by Pierre Dandumont, Journal du Lapin. 2016-08-06.
External links
Edit

This stub article needs more data!
You can help by expanding it.