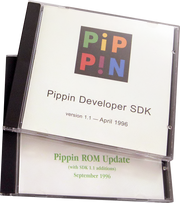 Pippin Software Development Kit (SDK) CD-ROMs were issued by Apple Computer to selected developers to facilitate creating titles for the Pippin platform. These included APIs and extensions that were based on the Macintosh operating system.[1]
SDK Releases
Edit
Pippin SDK CD (developer release 0, APL-1, December 1995)
Pippin Developer SDK (version 1.1, April 1996)
Pippin SDK CD (developer release 1, APL-?, May 1995) - Pippin OS ver 1.1
Pippin ROM Update (with SDK 1.1 additions, September 1996)
Pippin SDK CD-ROM (November 13, 1996) - Includes Pippin 1.2 ROM Update.
References
Edit
↑ Hacking the Pippin, Vintage Mac World. 2007-10-22. Archived 2017-08-17
↑ Pippin Developer Newsletter No. 5 (Japanese), Atmark Channel. 1996-02-15. Archived 1998-05-08.
External links
Edit

This stub article needs more data!
You can help by expanding it.