Shock Wave (ショックウェーブ, also known as Shockwave Assault) is a CD-ROM-based combat flight shooter video game for the Pippin Atmark console.[1]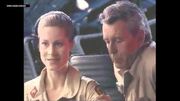 Shock Wave was first developed for the 3DO Interactive Multiplayer by Electronic Arts' Advanced Technology Group and released in 1994.[2] This original release of Shock Wave was combined with its expansion Shock Wave: Operation JumpGate into a package called Shockwave Assault that was ported to other platforms.[3]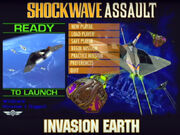 The Pippin port was simply titled Shock Wave on the packaging, but it was also identified as Shock Wave Invasion Earth: 2019 in the opening cutscene and Shockwave Assault: Invasion Earth on the title screen. The on-screen text remained in English while the dialog was dubbed in Japanese.[4] It was released in Japan by Bandai Digital Entertainment in 1996.[1]
References
Edit
↑ 1.0 1.1 Pippin software, Bandai Digital Entertainment, Japan. Archived 1997-06-27.
↑ Shock Wave Releases (3DO), MobyGames.
↑ Shockwave Assault, MobyGames.
↑ Shockwave Assault Bandai Pippin by gamingdumpster, YouTube. 2012-03-13.
External links
Edit

This stub article needs more data!
You can help by expanding it.