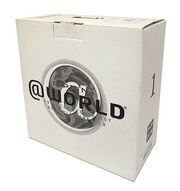 Pippin consoles were released in varying sets.
Pre-release
Edit
Main article: Pippin prototypes
Main article: Pippin Atmark
Special "Network set" (「ネットワークセット」) - Red and navy blue box, bundled with "Disk 6" CD-ROM set in black sleeve. MSRP JP¥ 64,800.
United States
Edit
Main article: Pippin @WORLD
Set PW-20010 would contain box 1 and 2 of the following. A larger set would contain all three for MSRP US$ 599.
1: Console
3: Modem & CD-ROMs - Included a Motorola 28,800 bps modem. Smaller sets would include the modem and discs in box 2, in place of the keyboard.
References
Edit
↑ MINT Pippin Atmark Not-for-Sale Black Box Edition Bandai Japan by tokyotoyfactory, eBay. Accessed 2018-01-23.
External links
Edit

This stub article needs more data!
You can help by expanding it.