Pippin prototypes were assembled by Apple Computer for development before Bandai released its first Pippin Atmark to consumers in 1996. These rare items are of particular interest to collectors of retro computing.[1] Such systems shipped with developer ROMs, allowing them to run pre-release software without authentication.[2]
Pre-release prototypes
Edit
Pippin prototype: Constructed by Apple in a large custom black box, more similar to a Power Macintosh computer than a set top console. A few units found their way into auction sites many years later.[3]
Unreleased models
Edit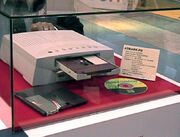 Bandai published specifications for new Pippin models and previewed them at MACWORLD Expo/Tokyo '97,[6] but these were never released for sale.
Pippin Atmark-PD: Designed as a direct replacement of the original Atmark footprint, it would have included an internal drive that could read a standard CD-ROM disc, as well as read/write to a Phase-change Dual (PD) disk with 600 MB of rewritable optical storage capacity.[7]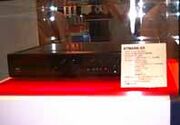 Pippin Atmark-EX: Featuring a footprint similar to a Macintosh desktop unit, it was designed with 8MB of RAM, expandable to 40MB with standard 72-pin EDO-DRAM modules instead of proprietary Pippin memory modules. The chassis could handle a half-sized PCI card internally. The displayed unit contained a PCI-based ethernet interface, a built-in analog modem, and wireless infrared (IR) Apple Desktop Bus.[8]
Other unreleased models include:
Apple Pippin Set-top box: Similar to the footprint of the early Pippin prototype, this unit combined the functionality of a game console with a satellite receiver and DVD-R drive. The translucent panel opened to reveal smart card access, AppleJack and audio connectors.[9]
Arborescence Network Centric computer: During Marché international des Inforoutes et du Multimédia '97, Groupe Arborescence announced a partnership with Katz Media to develop and market a new Euro-Canadian console based on the KMP 2000 for the Canadian market.[10] Arborescence also introduced what would have been the first "combo" Pippin expansion docks with a floppy drive and ethernet (or modem) through the PCI bus.[11]
References
Edit
↑ (Prototype) Apple Pippin by Pierre Dandumont, Le journal du Lapin (French). 2013-04-26.
↑ Les ROMs de la Pippin by Pierre Dandumount, Le Journal du Lapin (French). 2016-07-02.
↑ Apple Pippin Prototype, ASSEMblergames. 2013-03-17. Archived 2014-11-04.
↑ Bandai Pippin Image Archive, The Mac Geek.
↑ Un prototype de Pippin sur eBay by Pierre Dandumont, Le journal du Lapin (French). 2016-12-11.
↑ Macworld Tokyo: Of Cameras and Macs by Chuck and Linda Shotton, Tidbits. 1997-03-03.
↑ 9.0 9.1 Apple Pippin Set-top box, Studio Taktika. 2006-06-07.
↑ Press: Arborescence launches the first Canadian-content Network Centric computer, Katz Media. 1997-05-22. Archived 1997-07-13.
↑ Arborescence introduce the first COMBO Pippin doc/base module! by Joe Kudrna, O'Grady's PowerPage: Pippin NewsPage. 1997-08-03. Archived 1998-02-07.
External links
Edit