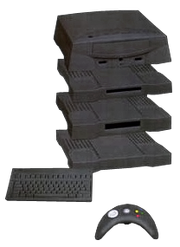 Pippin expansion docks were produced in very limited numbers by Bandai Digital Entertainment and Katz Media. The docks used a custom "X-PCI" interface to connect to the underside of a Pippin console.
Pippin ATMARK Floppy Unit
Edit
Model number PA-82002,[1] a white dock containing a floppy drive, released in the Japanese market for Pippin Atmarks at an MSRP of JP¥12,000.[2][3]
Pippin combo docks
Edit
Groupe Arborescence announced what would have been the first "combo" expansion docks for the Canadian market, with a floppy drive and ethernet (or modem) through the PCI bus. However, these were never released.[4]
Pippin ethernet dock
Edit
A dock to add ethernet support was announced by Bandai at an MSRP of US$139, but was not released.[5]
Pippin Expansion Unit
Edit
Katz Media planned to produce a generic expansion dock containing a riser card to support conventional PCI cards. Though prototypes had been in use by developers, this dock was never widely released. Some collectors have found individual riser cards as well as complete specimens housing an ethernet card.[6]
Pippin SCSI dock
Edit
A dock containing a SCSI port was reportedly tested for consoles that lacked one, but would have required a ROM update to rev. 1.2 or later.[7]
Pippin Zip dock
Edit
An optional Zip drive for the Pippin was announced by Iomega on June 18, 1996.[8] A prototype add-on had reportedly been tested in Japan, but was not released.[3]
Deltis 230 MO Docking Turbo
Edit
Released by Olympus on November 15, 1996, this dock featured a Deltis drive with the ability to read 128MB and 230MB magneto-optical (MO) discs with an efficient caching algorithm.[9] It was listed for an MSRP of JP¥54,800 and required a ROM update to rev. 1.2 or later.[10][11]
References
Edit
↑ Pippin Floppy Disk Unit by Mark Johnson. Flicker. 2013-10-11.
↑ 3.0 3.1 Video Game Bible 1985-2002 by Andy Slaven, p.61.
↑ Arborescence introduce the first COMBO Pippin doc/base module! by Joe Kudrna, O'Grady's PowerPage: Pippin NewsPage. 1997-08-03. Archived 1998-02-07.
↑ Pippin @World gets Ethernet, CNET News. 1997-05-21. Archived 2004-11-25.
↑

Bandai Pippin ATMARK \ @WORLD - Discuss by Kabelventje, Video Game Console Library. 2016-11-13.

↑ Useful Notes / Pippin, TV Tropes.
↑ Bandai Digital Entertainment To Offer Iomega's Zip Drive With New Internet Access Appliance., BusinessWire. 1996-06-18.
↑ Deltis 230 MO Docking Turbo (Japanese), Olympus. Archived 1997-06-22
↑ Olympus Announces MO Drive for Pippin Atmark (Japanese), PC Watch. 1996-09-24.
↑ An MO reader in the Pippin (French) by Pierre Dandumont. Le journal du Lapin. 2016-11-26.
External links
Edit