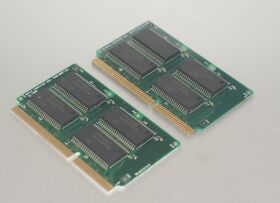 Pippin ROMs (read-only memory) contained the BIOS firmware for Pippin consoles, based on a specialized version of Apple Computer's Macintosh Toolbox API.[1]
The firmware is stored on 4MB of ROM chips, which are mounted on a small 120-pin board that plugs into a slot on the Pippin motherboard. These are interchangeable between developer and production units. The earliest board designs used flash memory,[2] which were reprogrammable, but ran 1.5 times slower and used 250KB more RAM than their permanent counterparts.[3]
The software contents of the ROM chips are based on the Open Firmware standard. The first 3MB contain the Macintosh Toolbox, mostly coded for Motorola 68K processors and accessed from the ROM instead of the boot drive in Apple's "Old World" model.[4] The following resource-based drivers are contained within the Toolbox:
| Driver | Type | Processor | Purpose |
| --- | --- | --- | --- |
| .AppleCD | DRVR | 68K | |
| .AppleSoundInput | DRVR | 68K | |
| DAVInput | ndrv | PowerPC | |
| .Display_Video_Apple_Control | ndrv | PowerPC |  "Taos" graphics hardware |
| .EDisk | DRVR | 68K | |
| .rdrvr | DRVR | 68K |  internal 128KB flash storage |
| .Sony | DRVR | 68K | |
| .Sound | DRVR | 68K | |
The last 1MB of the ROM contain a 68LC040 emulator, written by Gary Davidian, along with a dynamic recompiler for the PowerPC processor, written by Eric Traut.[4]
Early developer ROMs were unstable and can not launch retail titles. These were delivered on units with re-programmable flash memory.[5]
Pre-release "Monitor" and revision 1.0 ROM units were identified by a white label with the codename "KINKA".[6] The Pippin platform itself is named after Pippin apples;[7] Hoshi no Kinka is a yellow variety of apple that originates from Aomori, Japan.[8] The Japanese word (金貨) translates to "gold coin" and can also refer to the golden master in software development.
Revision 1.2 ROMs were offered in December 1996 to owners of Japanese Pippin Atmark consoles in exchange for their original 1.0 ROMs to add MO 230 support. American Pippin @WORLD consoles shipped with 1.2 ROMs built in.[6][9] One of the last Software Development Kits to be issued by Apple included the Pippin 1.2 ROM Update as a software extension.[2]
A limited number of Katz Media Player 2000 were released in Europe with 1.3 ROMs that removed the check for authentication of CD-ROMs. However, booting from external drives was not supported.[1][2]
Pre-release versions
Edit
Revision
開発用
"For Development"
GM Flash
"Golden Master"
モニター用
"For Monitoring"
Board part number
AP2660-02
AP2735-01
Number of chips
16* (flash)
8* (WORM)
Chip labeling
Intel N28F020-90 or AMD AM28F020-120JC
341S0241 thru 0245, 0247, 0248, 0250
Chip date (YR/WK)
n/a
9510
Major-minor-subrelease ID
077D-2CC3?[3]-0001
077D-2CC6-0001
Checksum
 ?
2BF65931
Support FDD
Yes
Yes
Support HDD
Yes
  Yes**
Boot from FDD/SCSI
Yes
Yes
Support Zip 100
 ?
Yes
Support MO 230
 ?
 ?
Support PCI expansion dock
No
No
Check CD-ROM for authentication
No
No
Notes
Re-programmable; unstable; can't launch retail CD-ROMs
Re-programmable; same contents as "Monitoring" ROMs
Only 500 reportedly shipped
Released versions
Edit
Revision
Rev. 1.0
Rev. 1.2 (JP)
Rev. 1.2 (US)
Rev. 1.3
Board part number
AP2777-01
820-0867-01
AP2777-01
Number of chips
4 (mask)
Chip labeling
341S0251 thru 0254
341S0297 thru 0300
341S0309 thru 0312
341S0328 thru 0331
Chip date (YR/WK)
9609
96-?
9633
9706 / 9747
Major-minor-subrelease ID
077D-2CF2-0001
077D-2CF5-0001
077D-2CF8-0001
Checksum
2BEF21B7
3E10E14C
3E6B3EE4
Support FDD
Yes
Yes
Yes
Support HDD
 ?
Yes
Yes
Boot from FDD/SCSI
No
No
 ?
Support Zip 100
No
Yes
Yes
Support MO 230
No
Yes
Yes
Support PCI expansion dock
No
No
Yes
Check CD-ROM for authentication
Yes
Yes
No
Notes
Shipped with Atmark (JP)
Exchanged for 1.0 ROMs to add MO 230 support (JP)
Shipped with @WORLD (US)
Shipped with KMP 2000 (EU)
* Chips are mounted on both sides.
** Reports of a Zip drive being required for hard drive support were likely related to SCSI termination issues.[2]
References
Edit
↑ 1.0 1.1 Useful Notes / Pippin, TV Tropes.
↑ 2.0 2.1 2.2 2.3 Hacking the Pippin, Vintage Mac World. 2007-10-22. Archived 2017-08-17
↑ 3.0 3.1 Pippin Developer Newsletter No. 5 (Japanese), Atmark Channel. 1996-02-15. Archived 1998-05-08.
↑ 4.0 4.1 Exploring the Pippin ROM(s) by Keith Kaisershot, Blitter.net. 2018-06-07.
↑ I have on loan a *very* early Pippin ROM by Keith Kaisershot, Twitter. 2017-07-25.
↑ Bandai Pippin FAQ, The Mac Geek.
↑ Biotechnology and apple breeding in Japan, Breeding Science. 2016 Jan; 66(1): 18–33.
↑ PEASE Turbo Support Page, Maki Enterprise. Accessed 2017-04-16.
External links
Edit