The Pippin Atmark (ピピン アットマーク, PA-82001) is a Pippin console that was marketed by Bandai in Japan. Bandai announced its partnership with Apple Computer on December 13, 1994 to produce the consoles and later also provided them to Katz Media as an OEM.[3][4]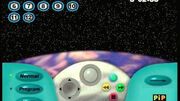 Manufactured by Mitsubishi Electric,[1] the Atmark was nearly identical to Bandai's own Pippin @WORLD which was released in the USA and very similar to the Katz Media Player 2000 which was released in Europe and Canada, though the latter two models featured newer ROMs. The Atmark's revision 1.0 "KINKA" ROM could be updated through a 1.1 System Enabler or a 1.2 ROM Update extension that were included on authenticated CD-ROMs. However, adding the 1.3 ROM's ability to load non-authenticated discs would require a ROM card swap.[5]
Atmarks produced for the Japanese market typically came in white cases, while @WORLD and KMP2000 units that were built for other markets always came in black cases. A few black Atmarks were produced in 1997 before being discontinued and are considered rare.[6]
Peripherals
Edit
Wireless versions of the AppleJack controller, modems, memory modules, and expansion docks were produced, but are very rare.[5]
Marketing
Edit
Bandai ran television ads in 1996 as part of their marketing campaign in Japan. Pre-ordering commenced during MacWorld Expo Tokyo in February 1996.
[7]
Discontinuation
Edit
Bandai withdrew the Pippin from the market on March 1, 1998, after only selling 30,000 units in Japan and 12,000 units in the United States,[8] missing its original sales targets of 200,000 and 300,000 units, respectively.[9]
References
Edit
↑ 1.0 1.1 Apple's Pippin: A Pip--or a Pipsqueak? by Peter Burrows, BusinessWeek. Archived 2013-06-04.
↑ Bandai Pippin FAQ, The Mac Geek.
↑ Bandai and Katz Media announce cooperation to develop European Pippin Market, Katz Media. Archived on 1997-07-13.
↑ 5.0 5.1 Hacking the Pippin, Vintage Mac World. 2007-10-22. Archived 2017-08-17
↑ Bandai Pippin Image Archive, The Mac Geek.
↑ Pippin Atmark 先行予約受け付け開始 (Japanese) by 市原誠雄. 1996.
↑ Bandai kisses goodbye to Pippin console., Screen Digest. 1998-03-01.
↑ Power Ranger - A Japanese Toymaker Invades Cyberspace by Cesar Bacani and Murakami Mutsuko, CNN. 1996-04-19.
External links
Edit