The Pippin @WORLD (PW-10001) is a Pippin console that was marketed by Bandai Digital Entertainment in the United States. Its parent company Bandai announced a partnership with Apple Computer on December 13, 1994 to produce the consoles and later also supplied them to Katz Media as an OEM.[2][3]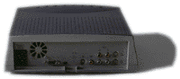 Manufactured by Mitsubishi Electric,[1] the @WORLD was nearly identical to Bandai's own Pippin Atmark, which had been released earlier in Japan. The latter model featured Kinka ROM revision 1.2, which added support for SCSI drives. However, adding the ability to load non-authenticated discs would require a revision 1.3 ROM swap.[4]
@WORLD consoles produced for the American market typically came in black cases, while @Atmarks from Japan were usually in white cases.[5]
Peripherals
Edit
Wireless versions of the AppleJack controller, modems, memory modules, and expansion docks were produced, but are very rare.[4]
The @WORLD console was first unveiled at a Media Preview event on May 15, 1996, the day before the Electronic Entertainment Expo in Los Angeles.[6] Apple operated a "Developer Test Drive" program until the console went on sale on September 1, 1996.[7] On September 23, 1996, Bandai announced that a 28,800 bps modem from Motorola would be bundled with the console.[8]
Discontinuation
Edit
Bandai withdrew the Pippin from the market on March 1, 1998, after only selling 30,000 units in Japan and 12,000 units in the United States,[9] missing its original sales targets of 200,000 and 300,000 units, respectively.[10]
References
Edit
↑ 1.0 1.1 Apple's Pippin: A Pip--or a Pipsqueak? by Peter Burrows, BusinessWeek. Archived 2013-06-04.
↑ Bandai Pippin FAQ, The Mac Geek.
↑ Bandai and Katz Media announce cooperation to develop European Pippin Market, Katz Media. Archived on 1997-07-13.
↑ 4.0 4.1 Hacking the Pippin, Vintage Mac World. 2007-10-22. Archived 2017-08-17
↑ Bandai Pippin Image Archive, The Mac Geek.
↑ E3 and Other Adventures in Electronic Entertainment by Jake Richter, PC Graphics Report. 1996-05-21.
↑ Apple's Pippin and Bandai's @World: Missing the Mark(et), Low End Mac. 2006-09-22.
↑ Bandai Digital Entertainment bundles Motorola 28.8 modem with Pippin @World Internet TV appliance., BusinessWire. 1996-09-23.
↑ Bandai kisses goodbye to Pippin console., Screen Digest. 1998-03-01.
↑ Power Ranger - A Japanese Toymaker Invades Cyberspace by Cesar Bacani and Murakami Mutsuko, CNN. 1996-04-19.
External links
Edit