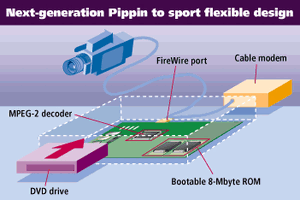 Pippin 2.0, also known as Pippin 1997 Reference Platform,[1] was a reference design specification prepared by Apple Computer to update the Pippin platform.[2][3]
Apple had been demonstrating the design to licensees and developers in 1996. Increased ROM space would eliminate the need to store system software on the CD-ROM, allowing diskless booting for set-top or kiosk operation.[2] The set-top box prototype combined the functionality of a game console with a satellite receiver and DVD-R drive.[4] Gil Amelio, the CEO of Apple Computer at the time, stated that Apple's version of a device based on the Network Computer Reference Profile would be "kind of a Pippin Plus."[5]
Apple co-founder Steve Jobs returned to the company and was named Interim CEO on September 16, 1997.[6] The Pippin was among several projects cancelled by Jobs to return Apple to profitability.[7]
Specifications
Edit
120 MHz PowerPC 603 or 603e processor.
80 Hz system bus.
8MB ROM with the ability to store system software or applications through EPROM.
Graphics acceleration with 2D, 3D, and MPEG-2 support.
DVD player with support for AC-3 digital audio, Photo CD, Enhanced CD, and DVD-R.
FireWire (IEEE 1394) to be included on the motherboard or a daughtercard.
References
Edit
↑ Consumer Applications of the IEEE 1394 Serial Bus, and a 1394/DV Video Editing System p.9 by Alan T. Wetzel and Michael R. Schell, Texas Instruments, Inc. 1996-06.
↑ 2.0 2.1 Options will make Pippin 2 a home, network computer by David Morgenstern, MacWeek vol.10-37. 1996-09-30. Archived 1996-12-20.
↑ Pippin次世代仕様マシンが来年デビューへ 機能選択が容易な2.0仕様。システムバス80MHzも (Japanese), MacWeek / Japan. 1996-10-01. Archived 1999-02-09.
↑ 4.0 4.1 Apple Pippin Set-top box, Studio Taktika. 2006-06-07.
↑ NC coalition frames plans for Net boxes by James Staten, MacWeek vol.10-21. 1996-05-27. Archived 1996-12-20.
↑ Jobs named interim Apple CEO, C|NET. 1997-09-16.
↑ For the good of the company? Five Apple products Steve Jobs killed by Casey Johnston, Ars Technica. 2011-08-25.
External links
Edit

This stub article needs more data!
You can help by expanding it.