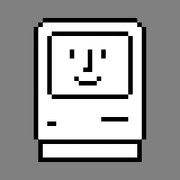 PippinFinder
is a simplified single-application launcher that is placed in the System Folder of a
"Pippinized" CD-ROM
in place of the standard
Macintosh
Finder
desktop.
[1]
However, an inactive copy of Finder 7.5.3 can still be found on many released disks.
[2]
For CD-ROMs that contains more than one application, a
Pippin Launch
file is added to provide a rudimentary interface to make a selection (for example,
Super Marathon
).
[3]
Un-Pippinizing a Pippin OS
Edit
On Pippin console configurations with a developer ROM or dongle, the "Finder" found in a "Pippinized" System Folder (which is actually the PippinFinder) can be replaced with Finder 7.5.3, or Finder 7.5.6 from an installation of Mac OS 7.6. Other extensions, libraries and control panels can be updated as follows from a Universal Installation of System 7.5.5, with the noted exceptions:[2]
Do not include from System 7.5.5:
Apple Guide files
Ethernet files
Monitors and Sound control panel
Open Transport files
QuickTime
Shared Library Manager
Retain from Pippin System Folder:
Monitors control panel
QuickTime
Shared Library Manager
Sound control panel
Remove from Pippin System Folder:
MacTCP control panel
PPP control panel
Optional updates (if memory permits):
Appearance Manager for System 7.x (if the Mac OS 8 or other desktop theme is desired)
MacTCP 2.0.6
Open Transport 1.1.1 or 1.1.2
References
Edit
↑ Technical Notes: PippinFinder, version 002, Apple Computer. 1996-04-18.
↑ 2.0 2.1 Hacking the Pippin, Vintage Mac World. 2007-10-22. Archived 2017-08-17
↑ Technical Notes: Pippin Launch, version 001, Apple Computer. 1996-05-02.

This stub article needs more data!
You can help by expanding it.
External links
Edit