PEASE Pippin Compatible Kit (or PEase, short for Pippin Ease) is a CD-ROM-based shell which allows Pippin consoles to launch applications from a simplified alternative to the Macintosh Finder desktop. Developed by Maki Enterprise, it resembles Apple Computer's own At Ease launcher.
PEASE is bundled with utility applications, such as an Appleshare server tool and a flash memory backup tool.[1] It can launch the Finder as an application (if the filetype of the latter is changed to APPL).[2]
Some games are also included on the CD-ROM:
Gold Digger
Gold Pusher (restricted shareware)[3]
Invaders!
MacPipes 2.0.2
Shatterball
Tangram 3.2
Tetris Plus
Availability
Edit
On June 15, 1996, PEASE was bundled with Pippin Atmark consoles sold in Japan in a new lower-priced "Atmark body set".[4] In January and March 1997, PEASE was included on the Mac Bin CD-ROMs bundled with the Japanese edition of MacUser to allow Pippin consoles to navigate the disc contents.[5] Support for PEASE was discontinued on April 1, 1997, after the introduction of its successor PEASE Turbo.[6]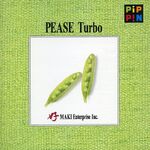 PEASE TurboEdit
PEASE Turbo is a substantial update from the original release of PEASE that shipped on November 30, 1996.[6] However, it was not made available as an upgrade for existing users. It adds support for QuickTime audio and video media, and improves support for launching applications networking.[7] It works with Pippin ROMs from rev. 1.0 to 1.3.[8]
Video gallery
Edit
References
Edit
External links
Edit