Movioke (also marketed as movioke!) is a CD-ROM-based entertainment title that had been announced for Pippin @WORLD consoles.[1]
Players can select from classic film scenes to act out, karaoke-style.[1] Comedian Dennis Miller acts as a host, director, drama coach, and critic by providing guidance to players. Audio recorded through the microphone port is then dubbed into the scene for playback.[2]
Release status
Edit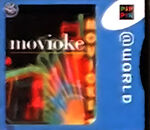 Movioke was originally developed by DigiToy Entertainment to support Pippin consoles as well as Macintosh and Windows.[3] It had been scheduled for release on September 15, 1996,[4] but was delayed until early 1997.[1]
The final retail version was produced by MediaSpan and incorporated video of Dennis Miller. It was released by Bandai Digital Entertainment as a hybrid disc, but only for Macintosh and Windows.[5]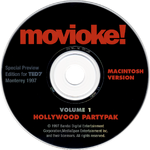 A promotional disc was released for Macintosh in 1997 at Ted7 in Monterey, California. It was partially "Pippinized" to boot on Pippin consoles, but requires ROM 1.3 or an authentication dongle as it had not been fully authenticated.[6]
The Pippin version had been promoted on Bandai Digital Entertainment's USA website.[1] Releases of other @WORLD titles also revealed a Movioke packaging design.[7] However, it is unclear whether it had ever been released for the platform.[8]
References
Edit
↑ 1.0 1.1 1.2 1.3 @WORLD Software - Entertainment, Bandai Digital Entertainment USA. Archived 1997-04-04.
↑ Special Preview, Movioke!. 2005.
↑ Movioke: Karaoke meets Hollywood, DigiToy Entertainment. Archived 1997-04-19.
↑ FOR IMMEDIATE RELEASE: Karaoke Meets Hollywood with Movioke™ by Jim Pavilack, DigiToy Entertainment. 1996-05-21. Archived 1997-04-19.
↑ Movioke! Macintosh Version (TED7 Preview) by Jason Scott, The Internet Archive. 2017-06-23.
↑ Katz Media Pippin KMP 2000 Home Console by nostalgeeks, eBay. 2017-06-23.
↑ Apple Bandai Pippin USA Games by Willard, AtariAge Forums. 2014-08-03.
External links
Edit