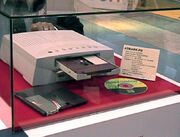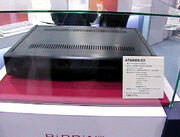 The Macworld Conference & Exposition, or simply Macworld Expo, is a tradeshow dedicated to Apple's Macintosh platform. It was organized by the publisher of Macworld magazine, a subsidiary of International Data Group. The Pippin platform, jointly developed by Apple Computer and Bandai, was marketed at Macworld events in 1996 and 1997.
1996 events
Edit
Macworld Expo San Francisco '96
Edit
Held January 9-12, 1996, the 12th to date to be held at Moscone Center.[1] Apple evangelist Guy Kawasaki showed off a Pippin prototype running alongside an ITV in the exhibit hall.[2] Tentatively named "PowerStation", it was running Netscape Navigator with an announced target price of $600 in Japan and $600 in the United States.[3]
Macworld Expo Tokyo '96
Edit
Held February 21-24, 1996 at Makuhari Messe, the 6th expo to date in Japan.[4] The Pippin Atmark was a major attraction that drew crowds at demonstrations.[5][6] The console was put up for pre-sale reservations. A developer seminar limited to 100 attendees was jointly held by Apple and Bandai Digital Entertainment on February 21.[7]
Macworld Expo Boston '96
Edit
Held August 7-10, 1996 at Bayside Expo Center,[8] where a new attendance record was set.[5] However, the focus of this event was the survival of Apple Computer. Though the Pippin @WORLD console had not yet launched in the United States, it was largely overshadowed by the rollout of new systems based on faster PowerPC 603e and 604e processors.[9]
1997 events
Edit
Macworld Expo Tokyo '97
Edit
Held February 19-22, 1997 at Makuhari Messe.[4] Bandai Digital Entertainment's booth was split into a "Home Use Zone" and "Business Use Zone",[10] where new prototypes, including the Pippin Atmark-PD and Atmark-EX were shown.[11] A seminar was held on February 20 to promote the use of the Pippin Atmark in a business environment.[10]
References
Edit
External links
Edit

This stub article needs more data!
You can help by expanding it.