MacUser was the brand of three Macintosh-themed magazines published in Japan, the United Kingdom and the United States by SoftBank (ソフトバンク), Dennis Publishing and Ziff Davis, respectively. Founded in 1985, the UK edition was the oldest of the three, and all three have ceased publishing as of February 2015.[1][2][3]
Bundled CD-ROMs
Edit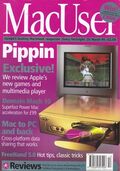 The Japanese edition of MacUser was typically bundled with one or more Mac Bin CD-ROMs containing software demos and previews for the Japanese version of Mac OS.
The January and March 1997 issues of MacUser in Japan contained coverage of Bandai's Pippin Atmark and included Pippin software demos on Mac Bin 38, 40A and 40B.
References
Edit
↑ Long-running Apple rag MacUser Magazine shuts its doors after 30 years, Apple Insider. 2015-01-16.
↑ IDG and Ziff to Merge Mac Publications, PCWorld. 1997-08-04. Archived 2010-03-29.
↑ 編集長 松尾公也インタビュー, HotWired (Japanese). 1998-12.
External links
Edit

This stub article needs more data!
You can help by expanding it.