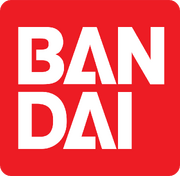 Bandai Co., Ltd. (株式会社バンダイ) is a Japanese toy company that produced the Pippin Atmark and @WORLD consoles through its subsidiary, Bandai Digital Entertainment. Bandai also produced consoles for Katz Media as an OEM.[1][2]
The company was founded in Tokyo, Japan as Bandai-ya in 1950 and adopted its present shortened name in 1961.[3]
Bandai's previous forays into the video game industry included the RX-78 microcomputer and Playdia (プレイディア) console, which were released in Japan in July 1983 and September 1994, respectively.[4][5]
Bandai CEO Makoto Yamashina (山科誠) selected Apple Computer's Macintosh as the basis of the Pippin platform due to its ease of use.[6] On December 13, 1994 in Tokyo, Japan, Apple announced its partnership with Bandai to develop the Pippin platform.[1] Bandai spent $93 million on marketing and development leading up to the launch of the Pippin Atmark in March 1996.[7] By the time it withdrew the consoles from the market in March 1998, over 50,000 unsold units remained in inventory and Bandai's losses from the Pippin were estimated at $214 million dollars.[8]
Bandai's last console to date was the portable WonderSwan series, which was sold from March 1999 to 2003.[9]
Bandai merged with Namco in September 2005 and presently operates as a subsidiary of Bandai Namco Holdings.[3][10]
Subsidiaries
Edit

Bandai Digital Entertainment Company (BDEC) published software titles for Pippin consoles in Japan and the United States. Some cross-platform titles were also released by BDEC for Macintosh and Windows.[1] It was dissolved on March 13, 1998 with the abandonment of the Pippin platform.[11]
Bandai Visual produced and distributed anime, film, and music content.[12]
Emotion Digital Software published titles for platforms other than the Pippin.[13]
References
Edit
↑ 1.0 1.1 1.2 Bandai Pippin FAQ, The Mac Geek.
↑ Bandai and Katz Media announce cooperation to develop European Pippin Market, Katz Media. Archived on 1997-07-13.
↑ 3.0 3.1 Company Overview of BANDAI Co., Ltd., Bloomberg. Accessed 2018-07-13.
↑ RX-78-GUNDAM (バンダイ:1983), K's Dee(ケイズ・ディー)の『パソコン博物館』. 2007-09-30.
↑ TVゲームの歴史 - プレイディア, GameForest. 2007-01-12.
↑ Interview - 'We Sell Dreams to Kids' by Cesar Bacani and Murakami Mutsuko, CNN. 1996-04-19.
↑ Power Ranger - A Japanese Toymaker Invades Cyberspace by Cesar Bacani and Murakami Mutsuko, CNN. 1996-04-19.
↑ Bandai kisses goodbye to Pippin console., Screen Digest. 1998-03-01.
↑ Bandai WonderSwan 101: A Beginner's Guide, Racketboy. 2007-07-06.
↑ Bandai, Namco to merge in Sept to form Japan's No 3 toy, game group, Forbes. 2005-05-02. Archived 2011-08-14.
↑ Bandai Says Goodbye to Pippin, GameSpot. 1998-02-27.
↑ Bandai Visual, Sega Retro. Accessed 2018-09-21.
↑ Emotion Digital Software, MobyGames. Accessed 2018-09-21.
External links
Edit