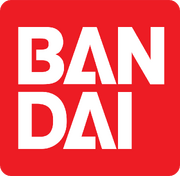 Bandai Co., Ltd. (株式会社バンダイ) is a Japanese toy company that produced the Pippin Atmark and @WORLD consoles through its subsidiary, Bandai Digital Entertainment. Bandai also produced consoles for Katz Media as an OEM.[1][2]
The company was founded in Tokyo, Japan as Bandai-ya in 1950 and adopted its present shortened name in 1961.[3]
Bandai's previous forays into the video game industry included the RX-78 microcomputer and Playdia (プレイディア) console, which were released in Japan in July 1983 and September 1994, respectively.[4][5]
Bandai and Pippin
Edit
Bandai CEO Makoto Yamashina (山科 誠) selected Apple Computer's Macintosh as the basis of the Pippin platform due to its ease of use.[6] On December 13, 1994 in Tokyo, Japan, Apple announced its partnership with Bandai to develop the Pippin platform.[1] Yamashina stated that Bandai was aiming for annual sales of at least 500,000 units.[7]
Bandai spent $93 million on marketing and development leading up to the launch of the Pippin Atmark in March 1996.[8] However, Apple was struggling with managerial dysfunction at the time and ceded control of Pippin developer support to Bandai on September 1, 1996.[9][10]
Yuji Hirano, president of Bandai Digital Entertainment, denied a report by Nihon Keizai Shinbun on May 11, 1997 that Bandai would withdraw the Pippin platorm.[11][12] To counter reports of poor sales in the consumer market,[13] Bandai organized a Pippin @WORLD Business Unit to refocus the platform towards vertical markets such as corporate intranets.[14]
By the time Bandai withdrew the consoles from the market two years later in March 1998, fewer than 30,000 and 12,000 units were sold in Japan and the United States, respectively. Over 50,000 unsold units remained in inventory and Bandai's losses from the Pippin were estimated at $214 million dollars.[15]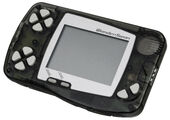 Bandai after Pippin
Edit
Bandai's last console to date was the portable WonderSwan series. It was better received in Japan and its variants sold 3.5 million units from March 1999 to 2003.[16][17]
Bandai merged with Namco in September 2005 and presently operates as a subsidiary of Bandai Namco Holdings.[3][18]
Subsidiaries
Edit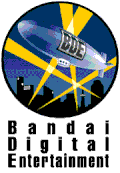 References
Edit
↑ 1.0 1.1 1.2 Bandai Pippin FAQ, The Mac Geek.
↑ Bandai and Katz Media announce cooperation to develop European Pippin Market, Katz Media. Archived on 1997-07-13.
↑ 3.0 3.1 Company Overview of BANDAI Co., Ltd., Bloomberg. Accessed 2018-07-13.
↑ RX-78-GUNDAM (バンダイ:1983), K's Dee(ケイズ・ディー)の『パソコン博物館』. 2007-09-30.
↑ TVゲームの歴史 - プレイディア, GameForest. 2007-01-12.
↑ Interview - 'We Sell Dreams to Kids' by Cesar Bacani and Murakami Mutsuko, CNN. 1996-04-19.
↑ INNOVATION : Apple's Pippin Plays Video Games, Plugs Into TV Set by David Holley, Los Angeles Times. 1994-12-14.
↑ Power Ranger - A Japanese Toymaker Invades Cyberspace by Cesar Bacani and Murakami Mutsuko, CNN. 1996-04-19.
↑ The Mac gaming console that time forgot by Richard Moss, Ars Technica. 2018-03-24.
↑ Pippin News: Bandai Takes Responsibility for Pippin Developer Support in the United States, The Apple Pippin Market Development Group. 1996-09-01. Archived 1997-04-14.
↑ What's New? 5月11日付け日本経済新聞 「バンダイピピン撤退」の記事について (Japanese), Atmark Channel Home Page. Archived 1997-06-29.
↑ Bandai Stops Making Pippin Atmark Machines, Wall Street Journal. 1997-05-12.
↑ Pippin @World gets Ethernet, CNET News. 1997-05-21. Archived 2004-11-25.
↑ Background of BDE, Studio02. Accessed 2018-06-25.
↑ Bandai kisses goodbye to Pippin console., Screen Digest. 1998-03-01.
↑ Bandai WonderSwan 101: A Beginner's Guide, Racketboy. 2007-07-06.
↑ Bandai WonderSwan (1999 – 2003), Museum of Obsolete Media. Accessed 2019-01-07.
↑ Bandai, Namco to merge in Sept to form Japan's No 3 toy, game group, Forbes. 2005-05-02. Archived 2011-08-14.
↑ Bandai Says Goodbye to Pippin, GameSpot. 1998-02-27.
↑ Le problème avec les jeux Pippin : on en découvre régulièrement (French) by Pierre Dandumont, Le Journal du Lapin. 2019-01-13.
↑ Bandai Visual, Sega Retro. Accessed 2018-09-21.
↑ Emotion Digital Software, MobyGames. Accessed 2018-09-21.
External links
Edit