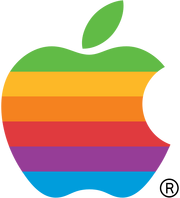 Apple Inc. (formerly Apple Computer, Inc.) developed the underlying technologies of Pippin platform and licensed them to Bandai and Katz Media.[1][2]
Pippin development
Edit
On December 13, 1994 in Tokyo, Japan, Apple announced its first partnership with Bandai to develop the Pippin platform. The Pippin was based on a run-time version of Apple's Macintosh operating system and second-generation Power Macintosh hardware. Many Pippin discs acknowledged Apple Computer's ownership of Pippin intellectual property simply as "ACI".[1]
Apple executives
Edit
There were three CEOs at Apple Computer during the development and marketing of the Pippin platform:
Michael Spindler (1993-1996) initiated an official clone licensing program, which would allow 3rd-party companies such as Bandai to create Macintosh-compatible systems, paving the way for the Pippin platform.[3] Spindler hoped that it would become the "savior of the company".[4]
Gil Amelio (1996-1997), an Apple board member and former CEO of National Semiconductor, took over as chairman and CEO of Apple on February 5, 1996 to turn around the struggling company.[5] Amelio stated that Apple's version of a device based on the Network Computer Reference Profile would be "kind of a Pippin Plus."[6] However, Amelio also pledged to cancel unprofitable projects at Apple, which included the Pippin in March 1997.[7]
Steve Jobs (1997-2011), one of Apple's original co-founders, returned to the company while it was continuing to face financial difficulty, and was named Interim CEO on September 16, 1997.[8] During the reorganization of Apple and its product lines to return to profitability, the Pippin was cancelled in 1998.[9]
Other television projects
Edit
Promotional videos
Edit
Media coverage
Edit
References
Edit
↑ 1.0 1.1 Bandai Pippin FAQ, The Mac Geek.
↑ Katz Media Signs Worldwide Licensing Agreement for Apple's Pippin Technology, Katz Media SARL. Archived 1997-07-13.
↑ Apple's biggest flop? A requiem for the Apple Bandai Pippin games console by Emma Boyle, TechRadar. 2017-03-10.
↑ Apple's Pippin: A Pip--or a Pipsqueak? by Peter Burrows, BusinessWeek. 1996-04-01. Archived 2013-06-04.
↑ Gil Amelio's Insanely Great Paycheck by Peter Burrows, Bloomberg. 1996-02-26.
↑ NC coalition frames plans for Net boxes by James Staten, MacWeek vol.10-21. 1996-05-27. Archived 1996-12-20.
↑ Amelio: Promises made, not always kept, CNET. 1997-07-16.
↑ Jobs named interim Apple CEO, C|NET. 1997-09-16.
↑ For the good of the company? Five Apple products Steve Jobs killed by Casey Johnston, Ars Technica. 2011-08-25.
External links
Edit