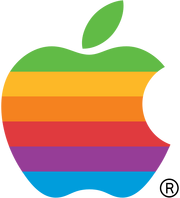 Apple Inc. (formerly Apple Computer, Inc.) developed the underlying technologies of Pippin platform and licensed them to Bandai and Katz Media.
On December 13, 1994 in Tokyo, Japan, Apple announced its first partnership with Bandai to develop the Pippin platform. The Pippin was based on a run-time version of Apple's Macintosh operating system and second-generation Power Macintosh hardware. Many Pippin discs acknowledged Apple Computer's ownership of Pippin intellectual property simply as "ACI".[1]
Steve Jobs, one of the original Apple co-founders, returned to the company while it was facing financial difficulty, and was named Interim CEO on September 16, 1997.[2] While reorganizing Apple and its product lines to return to profitability, the Pippin was cancelled in 1998.[3]
Promotional videos
Edit
Media coverage
Edit
References
Edit
↑ Bandai Pippin FAQ, The Mac Geek.
↑ Jobs named interim Apple CEO, C|NET. 1997-09-16.
↑ For the good of the company? Five Apple products Steve Jobs killed by Casey Johnston, Ars Technica. 2011-08-25.
External links
Edit